Wine itself, undoubtedly not an everyday wine, it is only my surprise wine tonight. Why? It is just a secretly opened wine found in dad's cellar. Somehow I have to stop someone from further consuming...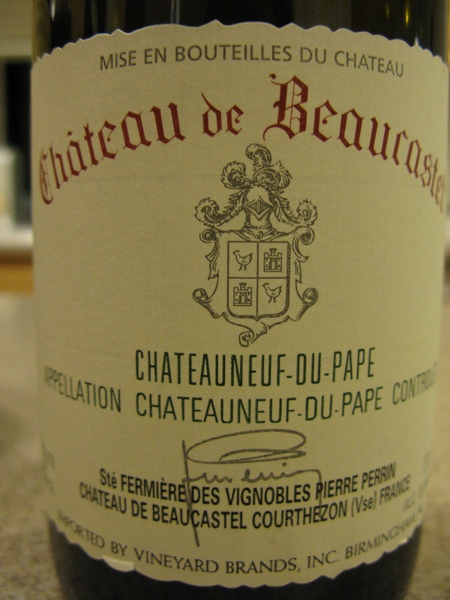 Appelation: Chateauneuf-du-pape controlee
Weather: warm, dry growing seasons in Rhone
Soil: pebbles known locally as ''galets''
Wine Maker: Jean-Pierre and Francois Perrin
Grape: Here's the highlight. This wine has 13 varietals of grapes!
30% Grenache, 30% Mourvedre, 10% Syrah, 10% Counoise, 5% Cincault and others (Vaccarèse, Terret noir, Muscardin, Picpoul, Picardan, Bourboulenc, Roussanne)
Production Method: blending. Unlike ordinary Chateauneuf-du-Pape, the % of Mourvedre is higher than others.
Observation:
Tawny, garnet rim, very long tears
Nose:
Blend of peppers, spice, leather, black and red fruits, slight prune...mixture of all dark fruit palate based wine.
Palate:
Ham, meaty, spice, hint of licorice. Balanced body, medium + length, spicer, high alcohol content. not as peppery as cabernet sauvignon, body is slightly lighter. Creamy, rich in content that generates long aftertaste. Hint of bitter cherry at the edge.
Decanted
--> tannin is softened and body is more balanced. It can last longer, still have potential to grow, yet still the time to drink. Almost at peak. (Decanting is recommended on wine label. Whenever wine requires decanting, its tannin level must be high and body would be very rich and well-balance. This is what we called the Big Wine)
From its body and the texture, it might well deceive drinkers as one of the Grand Cru Classe. You can only distinguish from tasting a blend of finishes that it would be a blended varietals. This is due to the usage of Mourvedre, a grape which could work as effective on aging as Cabernet Sauvignon. Very high quality to-be-vintaged wine.
Price: Ranging from $480
Source: Wine bluff
Worth buying: $$$$$